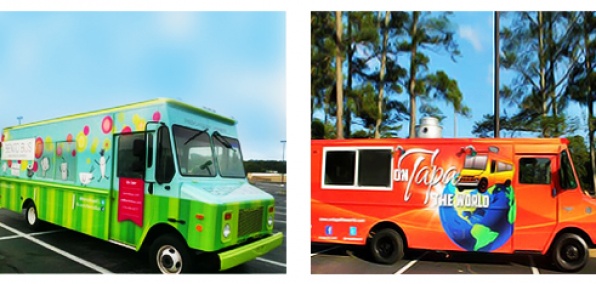 Now that the Fourth is over, let's focus on other parts of the world. Like Japan. And Spain. Specifically, the new food truck versions of them—
Bento Bus
and
On Tapa the World
, respectively—that'll be at the Atlanta Street Food Festival this Saturday.
But first: some friendly competition.
The Truck
Bento Bus:
A multicolored food mobile festooned with smiling cartoon bowls and flag-wielding sushi rolls.
On Tapa the World:
An orange truck named Wilma. With a painting of another orange truck on it.
The Edge:
On Tapa the World. Points for straightforward imagery. And being named Wilma.
The Food
Bento Bus:
Eventually, they'll have bento boxes. But for now, it's all Asian tacos, bowls and surritos. (That's a sushi burrito.)
On Tapa the World:
Spanish tapas like carne asada and
shredded-chicken empanadas
.
The Edge:
Bento Bus. Your surrito allegiance is unwavering.
The Situation
Bento Bus:
You need to fit an hour-long sushi meeting into a 10-minute window.
On Tapa the World:
You require immediate afternoon access to marinated steak on a stick.
The Edge:
Push. There are no losers in the game of lunch.