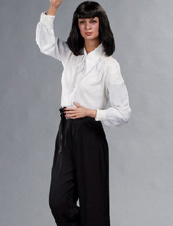 Ultimately, the fates
deprived
you of the chance to score your own military jacket from Jacko's closet.
But nothing's going to stop you from taking Uma Thurman home. So you've got just enough time to prep for tonight's
Hollywood Wax Museum Auction
.
This is the first time the long-living tourist haunt has ever unleashed its wares to the public—and that (ahem) statuesque wax sculpture of Uma as Mia Wallace will go from unnerving to wondrous when uprooted from the fanny-packed shutterbugs and placed in the general vicinity of your flat screen. (Especially when it's actually playing
Pulp Fiction
.)
In terms of decor upgrades, the possibilities are endless—Bogart from
The Maltese Falcon
will add some dapper to your closet, Tom Cruise works on the couch and Marilyn Monroe from
The Seven Year Itch
could bring a nice bit of whimsy to your roaring AC grates come summertime.
But if you just don't have room for vaguely terrifying life-size replicas in your place right now, we suggest some creative gift-giving—as an intimidation tactic, you could arrange for your enemy target to wake up looking at the masked
Scream
killer or, perhaps, the lady in your life would like a new jewelry box (Mr. T). And there's even a zombie MJ from
Thriller
—circle of life.
Which reminds us: they've got an Elton John, too.