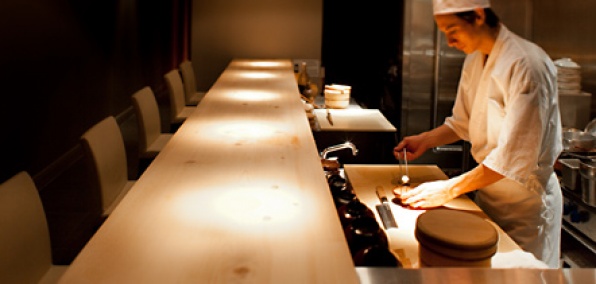 Decisions can be hard. This goes double on a Friday.

So tonight, instead of dissecting a menu the size of Ulysses, we know a place where you can sit back, relax and let someone else do the ordering…

Introducing Naoe, a 17-seat slice of non-decision-making sushi heaven, now open in Sunny Isles.

Think of Naoe ("now-ee") as the Kenny Bania of Japanese restaurants: it doesn't make you think too much. (And yet, unlike Bania, you want to hang out with it. A lot.)

There are no menus. Instead, you'll step inside the soothing, minimalist space with a sushi lover or three, sidle up to the blond wood counter and surrender yourself to the one thing you can order: the bento box omakase.

Depending on the day's catch from Haulover Marina, this may include salmon belly nigiri or Spanish mackerel, plus more daring items like creamy homemade tofu topped with sea urchin sauce, monkfish liver with white turnip, and miso soup with a poached egg. (The chef, by the way, is a raw-fish wizard who rocked the house at Siam River.)

If you get thirsty, try the frozen sake: direct from the Nakamura Brewery in Ishikawa, it's like a sorbet that you start with a spoon…and finish like sake.

Trust us, you can handle it.