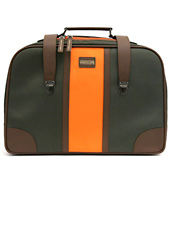 Not sure if you noticed, but it's nearly May.
Meaning it's time to start calendaring in summer weekends and beach getaways.
And while getting away is the important part, there's no reason you shouldn't look good doing it.
Introducing
Peasants and Travelers
, a new 12-piece line of bags from a San Francisco designer whose sartorial past includes Gucci and Banana Republic, available starting today at Kenneth Wingard.
These are the bags that James Bond might throw in the back of his Aston Martin en route to his Hamptons hideout—a solid combination of urban fair with crisp functionality, of which Q would certainly approve.
While the collection includes computer bags and messengers, you'll like the carry-ons for their understated flash that put the black roller to shame. Take the slouchy
Weekend Bag
—big enough to hold the usual suspects as well as a box of cigars and some bottles of wine. There's also the sleek
Doctor's Bag
that you can stash into an overhead compartment (and comes in handy for late-night house calls).
You'll appreciate the heavy-duty, water-resistant materials, but the true brilliance is the inner lining, made of the same soft dress-shirt material that's bound to make your oxfords right at home on your travels.
Which is obviously your first priority.