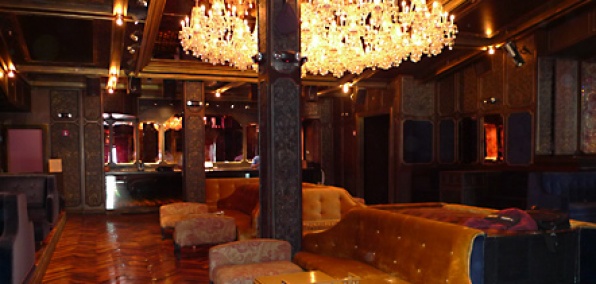 Nightclub owners are notorious risk takers, gamblers and cowboys.
But you'd have to be crazy to open a new club in the Meatpacking District right now.  
Well, welcome to crazytown:
Griffin
opens this Thursday in the former PM space on Gansevoort Street after being battle-tested this past weekend for a few private parties
. Here's your first peek inside...

While there's certainly a precedent for recent lavish openings, Griffin is the first new club to touch down in the belly of the beast in some time. So if you're starting to get an itch for a bit of opulence or an old-school blow-it-out MPD night, you have a new place to get things started.
 
If it's been a while since you braved the cobblestones, head down Gansevoort, find your way inside the enormous unmarked doors and saunter into what is unmistakably a brand-new club—you can tell by the oversized chandelier emanating from the giant framed-mirror ceiling, the VIP balcony and the blue velvet banquettes you'll be dancing on shortly.

Which means you'll probably want to ease back into the glory of the MPD, so start with something that should feel all too familiar: a strong Manhattan, crafted by the Milk & Honey/Little Branch vets running the bar. From there, trust your instincts…
 
And if there's one thing we know, it's your instinct on the dance floor.