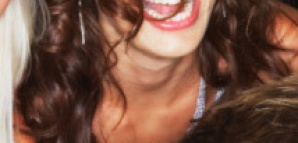 Now that July 4th is over, Uncle Sam is taking a little midsummer nap. With the
World Cup
fresh on our minds, it's time to party with some of our friends from around the world. Below, the definitive roundup of the best international-flavored nights in NYC right now.
Made In Italy
Forget
: Pasta, Vinnie from Jersey
Think
: Monica Belucci, Ferraris, vino
Next Event
: Thursday, July 20, Pier 63
Famous for huge, debaucherous throw-downs where hundreds of people show up to dance on tables and drink Peronis, Negronis, and any other booze ending with an "i."
French Tuesdays
Forget
: Brie, berets, bad attitudes
Think
: Brigitte Bardot, Cannes, Bastille Day
Next Event
: Tuesday, July 18, Tavern on the Green
Expat frenchies and New York bon vivants gather every other week to guzzle champagne, dance and celebrate all things Franche.
Six
Forget
: Canal Street
Think
: Sleek Shanghai, Tokyo and a whole lotta Seoul
Next
Event
: Sunday, September 3 (info to follow on website)
Centered around the six major holidays, these Asian parties are all about bevies of dressed-to-kill women and everyone chilling like Japanese rock stars (plus mandatory post-party
karaoke
).
Vronsky's Night

Forget
: Sleazy Eurotrash
Think
: Monte Carlo, sexy Eurotrash
Next Event
: Friday, September 22, Fizz
Recently conceived by Count Bepi (yes, he's a real Count) as a new offshoot of the NY Dandies party, Vronsky's Night will be a "playground of European excess"—sounds about right.
Sangament
Forget
: Calcutta
Think
: Bollywood
Next Event
: Thursday, July 20, SOB's
Launched in 1997, this is where to get your fill of Indian pop, rap and dance music, with a scene almost as spicy as last night's curry.
Havalight
Forget
: Manischewitz and matzoh
Think
: Euro J-Date and Sarah Silverman
Next Event
: Thursday, July 20, Jewish Museum
Started in 2004 by two French Jews looking to meet other Euro-Jews in New York, Havalight has become the place for young Jews to break bread together. Go ahead, make your mom happy.
MSHAB
Forget
: Oil sheiks
Think
: The sheik's daughter
Next Event
: Friday, August 18, Element
A party ain't a party 'til you've had a few hookahs with some raven-haired Middle Eastern beauties...and there's nothing better to drink to than world peace.