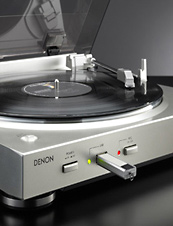 Sometimes, you're feeling old-school. Sometimes, you're not. Most times, you want it both ways.
For those occasions, there's the
DP-200USB
, a breakthrough turntable from Denon.
The trick? It converts your budding vinyl collection—and if you haven't started, Booker T.'s excellent new
Potato Hole
is a good place to start—into MP3s, and then sends them right to your computer. (This is accomplished via USB; hence the catchy name.) From there, just drop those files onto your portable music player of choice, and you're golden. (After all, an iPod might produce lousy sound, but it's still easier to haul around than a big old record player.)
But that's only half the story. The killer app is that it automatically labels and tags your MP3s for you, using the same software iTunes does. This will save you precious hours that could be better spent with your loved ones (by which we mean your new records). Better yet, with its sleek exterior, this thing looks as good as it sounds.
Which reminds us: it also plays records.