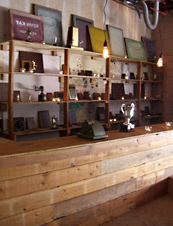 After sundown, in the bustling LA night, that's where you truly thrive. Some might even call you the champion.
So it was, perhaps, only a matter of time before a lively party broke out at a trophy factory—namely the one near
Venice Beach Wines
, which is now hosting a glittering monthly blowout.
This covert—and yes, award-worthy—operation takes place in an actual old trophy factory stowed away on a dark block of Venice. Naturally, it's been enhanced—we'd say improved—with a gleaming bar, a DJ booth, a hidden garden patio out back and endless nooks and crannies, with candlelight bouncing off glinting trophies.
Come Saturday, that bar will be pouring some choice wines from the VBW cellar, as well as free-flowing
Rouge Ginger Royales
(vodka, watermelon, lemon and ginger juice with candied ginger) and
Noir Citrus Presses
(dark rum, orange and lemon juices, fresh thyme). It's all included in the $45 ticket price, and the evening's a first in a series of trophy-fueled blowouts at the space.
Prepare to defend your record.