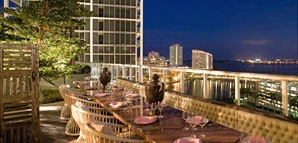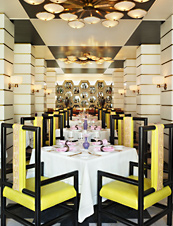 Patience is a virtue, or so we're told. But it ain't much fun.
So when we heard that two big-deal New York City dining gurus were bringing big-city dining pedigree—and the delicious, sophisticated food that comes with it—to the Viceroy, we decided you needed to know now.
Introducing
Eos at the Viceroy Miami
, now accepting limited reservations for Tuesday's soft opening.
A collaboration between chef Michael Psilakis and restaurateur Donatella Arpaia (they of NYC's Michelin-star-rated Anthos), this 15th-floor Greek spot is outfitted with enough deco noir to make you feel like Don Draper on a salacious date. Start with a cocktail at the back bar—inlaid with hexagonal brass—before retreating to one of the yellow tufted banquettes for a tasty small plate. (Think
Lobster Risotto with Sea Urchin
,
Mushrooms with Bone Marrow
or
Calves Tongue Sliders
.)
Or better yet, bring your entourage for the "big party" option, whereby the kitchen will roast an entire animal of your choice—suckling pig, baby goat, spring lamb—in the tradition of Mediterranean-style celebrations. As with any blowout, preparation is mandatory: the meals require a three-day preorder.
Speaking of advanced planning, we have an exclusive look at the
soft-opening menu
, which is subject to change. As these things are.
So don't get too attached. Not that you would.