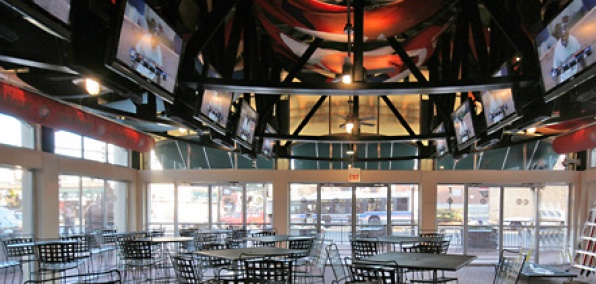 Opening Day at Wrigley is usually fraught with history, hope and—today, at least—a little rain. So you may be looking for the newest place to keep your powder dry.
Let us introduce you to the
Captain Morgan Club at Wrigley Field
, a new beer-and-rum retreat offering you year-round access to the Friendly Confines.
Whether or not you have a ticket to the day's game, you're welcome to hang at this soaring all-season sports bar, a partnership between the Cubs, Harry Caray's Restaurant Group and Captain Morgan.
The narrow,
jutting venue
extends from Wrigley's outer walls to just inches behind the Harry Caray statue—always your ideal pre-game meeting place. Get there early: the joint opens a couple hours before first pitch. Once you're in, relax outside at a wrought-iron patio table and soak up the game-day shenanigans on Addison and Sheffield. (On chilly days and during the offseason, stick to the warm, steel-beamed interior, which is plastered with flat-screens.)
There's a substantial sandwich menu, including pulled-pork slathered in Sweet Baby Ray's sauce, and, naturally, rum cocktails like a
Captain Cubby
(Captain Morgan and Pepsi) and a
Crabby Parrot
(Parrot Bay Key Lime with cranberry juice). The club also offers all the ice-cold Bud, Old Style, Goose Island and other brews you could hope for.
And since you're a Cubs fan, you know all about hope.