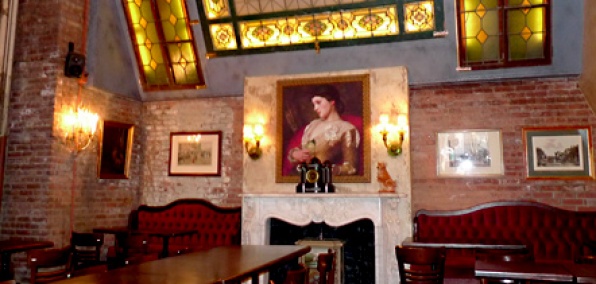 There are plenty of places to end your night—we can think of a couple subterranean gin dojos and more than a few whiskey hovels where we'd like to find ourselves come last call—but when you're looking to start your evening on the right note, Victorian pubs are often overlooked. Maybe it's time to don that monocle.

Introducing Lillie's, an aristocratic Irish haunt in Union Square, perfect for the first stop on your whirlwind tour of the city's pleasures.
 
Think of Lillie's as the scene-iest spot in 1870s Belfast. The bar is named after real-life Victorian socialite Lillie Langtry (the Paris Hilton of her day, we're sure), who lent the owners the bar, banquettes and paintings from her Irish mansion along with a few crates of their very own house wine. Luckily, when you're trying to class up an after-work booze flight, a little marble and varnished wood can come in handy…

The pints and pies don't stop flowing until the 4am last call, so they're not bad for the occasional aperitif, but we prefer stopping by for the charming custom known as the happy hour, best enjoyed with a few pints of Guinness (or a Kenyan Tusker Lager, if you're feeling colonial), a well-timed steak sandwich and a room full of delightfully sauced associates.

All of which makes it easy to party like it's 1899.