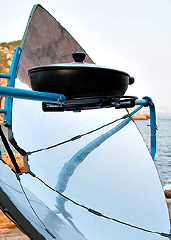 Below, a few crucial things to remember tomorrow.
1. Always cook chicken to 165 degrees.
2. Neil Diamond's "America" is a national treasure.
3. Try to use a grill that has been thoroughly vetted by Himalayan nomads.
About that last one...
Find a spot of sun for
SolSource
, a handy solar-powered grill for cooking steaks off the grid/in your backyard, available for preorder now on Kickstarter.
What you have here: one hell of a conversation starter. Also: a bunch of reflective panels shaped into what looks like a satellite dish. (Some assembly required.)
Those panels harness energy from the sun, which quickly heats up the attached grill plate. Within minutes, you've got a hot surface for grilling kebabs on your patio. Or anywhere else that's not experiencing a solar eclipse.
Oh, and that Himalayan nomad thing: all true. See, the guys behind this were working in rural mountain villages, trying to find some new inexpensive and eco-friendly ways of cooking food. And this is what they came up with.
We're sure you'd have thought of this eventually.