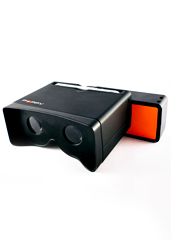 Red. White. And blue.
Beautiful colors.
Great for flags. And Bomb Pops. And 3D glasses.
Speaking of...
Feast your eyes on
Poppy
, a boxy black device that attaches to your iPhone and turns everything you see, snap or record into high-definition 3D, taking orders now for December delivery. (Relax, that's only like 151 days from now.)
This is the kind of thing James Cameron would use to make Vine videos. What it looks like: a big square. How it works: simple. There's a slot in the front. That's where your iPhone goes. There's a pair of lenses in the back. That's where your eyeballs go.
Now, just use the phone like you normally would. Take pictures of lobster rolls. Record videos of lobster rolls. Also, vacations, weddings, beachy sunsets, things of a less wholesome nature...
While you're doing all this, mirrors in the device are changing everything you capture into crisp 3D. 3D that can then be saved to your iPhoto library. Or uploaded to YouTube. Or viewed in IMAX.
Pretty sure this is how Peter Jackson does it.