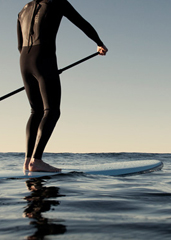 Take a deep breath.
Now... exhale.
Now... repeat that about 20 or 30 more times.
Great, you're officially qualified to make balloon animals.
Also, surfboards.
Put some zinc on your nose and behold the
Gnaraloo Inflatable SUP
, an unassuming mass of polyurethane that inflates to become one very sturdy, fully functional surfboard/paddleboard hybrid,
available now exclusively through UD Perks
.
"SUP." That stands for "Stand-Up Paddleboard" (award yourself a gold star if you deduced that on your own). And you want one because this is the summer you finally learn how to surf/paddleboard/properly use an air pressure gauge. You've got big goals for this summer.
So here's how it's going down. You'll arrive at the shoreline. You'll unpack this thing from its compact carrying case. You'll use the included hand pump to inflate it to about 15 to 20 PSI. At which point, you'll grab your paddle, hop on and start paddling. (Just to be clear: you should already be in the ocean by this point.)
Oh, and side note: the only place you can get this right now is through
Perks
. So head over there, pick one up and then head somewhere beachy.
Like a beach.