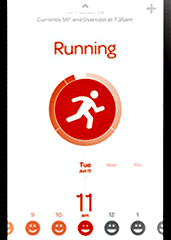 These days, going outside is nothing short of treacherous.
What you need: a parasol, a water jug and SPF 200.
Also, some kind of service that'll actually tell you when it's safe to leave the house.
Something like
Foresee
, an app you'll use to decode the ideal time and weather conditions to go running, play golf and barbecue ribs, available now for iPhone.
You might have a few weather apps already. Stuff for predicting temperature and measuring UV and letting you know when it's going to rain. But this... well, it does all of that. But also more. Because it tells you when the weather's just right for pursuing your favorite outdoor endeavors. Like hiking. Or patio brunching.
To get started, just sift through the dozens of preset activities on here. For ones you enjoy, put in some parameters. Maybe you like to run when it's cloudy. Kayak when it's above 85. Barbecue when the wind's out of the southeast at 10 mph.
Then, the next time you're looking to make plans, pull up the app and select a time (say, Saturday at noon), and you'll be given a list of weather-appropriate things to do based on your preferences.
No, "running through sprinklers" isn't an option.