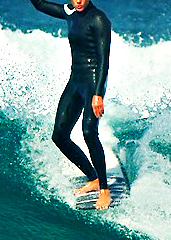 A quality suit: always a good investment.
It'll last forever. You'll use it all the time. It'll keep you warm when you're diving with seals off the San Diego coast.
Oh, sorry—we're talking about
wet
suits.
In particular, the
Made
-
to-Measure Wetsuit
, which is, as you'd expect, a wetsuit that's custom-tailored to your body and your body alone, available now from the British surfing gurus at Swami's.
First, some background on Swami's. They've made surfboards with Paul Smith. They're a cab ride away from Savile Row. And they're close friends with an actual wetsuit tailor who lives on the Celtic Sea. So if anyone's qualified to make you an immensely aerodynamic wetsuit that fits like a... glove made out of wetsuit, it's them.
The benefits here: many. It'll be snugger than your standard wetsuit, so you'll be warmer. And since you'll be warmer, you'll have more energy. And since you'll have more energy, you'll be more alert. And since you'll be more alert, well, you'll basically be like a superior-wetsuit-wearing superhero.
To get one, all you'll need to do is shoot them an
email
, tell them your measurements and select whatever color you want for your suit.
So long as that color's black.