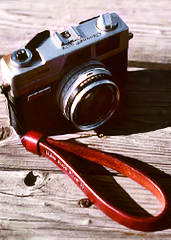 Hopefully, you're reading this from the road right now.
Hopefully, you're riding shotgun with the windows down.
And hopefully, you brought your camera with you.
Because you need to make fun of it for not wearing one of these...
Strike a pose for the
Great State Strap Company
, a Portland-based outfit whose sole purpose in life is making leather straps for hanging cameras around your neck (no one ever said handsome was complicated), online now.
Right. This is a website that has leather camera straps. Probably not going to change the fabric of your life. But hey, it's summer. You've got places to go. People to see. Pictures to take. And these vegetable-tanned leather straps are going to make doing that look a lot better.
After you pull up the site, whip out an old Kodak or something and hold it up next to the screen. Figure out what feels right. There's the
Loop Strap
with aged brass buckles. Grab it and go full Terry Richardson. Or that burgundy leather cuff number. It's oiled and protected with a natural pine wax blend.
Yes, you can tell all your friends that.