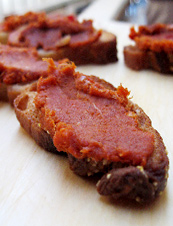 Meat has always been solid.
We're not mad, but fruit, cheese and nuts have successfully branched out into the dignified realm of spreadable foods, and we think meat is primed for a schmear.
And apparently so do the meatsters at Boccalone: let us introduce
Nduja
(pronounced "en-doo-ya"), the country's first spreadable, spicy salame—originally from the Calabria region of Italy, available now in sausage and sandwich form.
Think of nduja as your new pate replacement when you're looking for something a bit more animalistic. From the first bite, you'll instantly recognize the flavor of the oft-sliced gourmet Italian sausage, but with an intense peppery kick that starts on your tongue and travels, wasabi-like, to your nose thanks to a healthy dose of Calabrian chiles. Then, the flavors ease up, leaving a subtle warm spice, which is thought to have an aphrodisiac effect.
And while you could eat this distant cousin to the French andouille sausage (hence the Italian name "nduja") by the spoonful on your couch, you'll probably want to spread it over a few crostini to keep things civilized. Or mix it into a pasta sauce if you're cooking for an Italian princess with a bold streak. Or even drop by Boccalone for nduja and grilled onions in a hot panini if you're near the Ferry Building.
Or really, even if you're not.