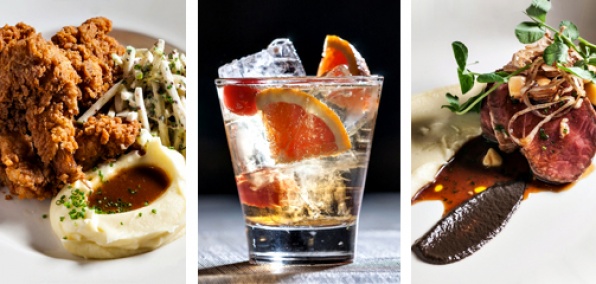 You're about to want to go to Wisconsin.

Didn't see that one coming, did you.

And yet, here we are...

Welcome—at long last—to The Butterfly, Michael White's retro hall of supper clubbiness and cocktails, opening Tuesday in Tribeca.

Think of this as the greatest Elks Lodge ever built. (And one that has a few Jetsons-y touches, too.) A nostalgic ode to the underappreciated American region of Chef Bianco's youth—the Upper Midwest. There's a patty melt. There's pretzels you dip in a stout-beer-cheddar fondue. Bratwursts that have been turned into sliders. Mashed potatoes that know their place is by fried chicken's side. And cocktails... let's just make those your big mission.

Because the bar is the centerpiece of the room. It's backed by a giant mirror-boxed carving of a butterfly. And it's where Eben Freeman (late of wd~50) is reacquainting you with the drinks dads used to go nuts for—not old old-school, but more... tacky suburban barbecue old-school. Refined takes on cheap-brandy Old Fashioneds and grasshoppers.

Of course, there'll also be some originals.

We're not animals, after all.