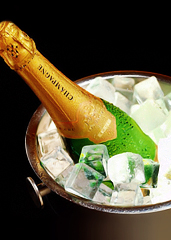 Ring, ring.
You: "Hello, fine drinking establishment. My clients and I would like some bottle service."
Fine drinking establishment: "Let's see what's available. Please hold."
You: holding. Smiling at your group assuredly. Knowing there's not a chance in hell because it's Saturday night and you don't have reservations.
Us: telling you you'll never have that conversation again.
Because, hey...
Fusen
, a new Atlanta-based app that lets you see what tables are available in bars around the city (and more importantly, lets you book them on the spot), available now for iPhone.
If you've made a dinner reservation online, you get the idea here. Except the end result involves a bottle of vodka instead of a plate of chicken. And a cocktail waitress instead of a guy in an apron. So two points for this thing.
Once you log in, you'll see a map of nearby imbiberies (Havana, Edgewood Speakeasy...). Your options are fairly limited at the moment, but they're adding more as we speak. So come Saturday, just pick a table, press reserve, receive a confirmation email and rejoice.
And should you feel the need to investigate further, they're having a launch party at Havana on Friday.
Somehow your investigations always involve sparklers.