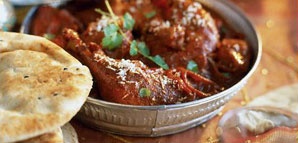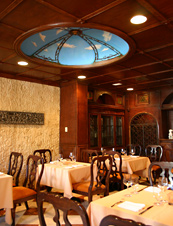 India is hot right now.
A smiling Freida Pinto is merely one reason why. (Another reason: a non-smiling Freida Pinto.)
Unfortunately, you don't get the chance to soak up Indian culture and feast on authentic Indian cuisine too often here in Miami. But all that is about to change…
Introducing
Indian Palate
, filling the city's Indian void with soft shell crab bhajiya, calamari pulisaathu and other steaming dishes you'll never be able to say, now open in Coral Gables.
Keep Indian Palate in your back pocket when you're on a date with someone who's a bit hard to impress. The surroundings are polished (it looks a bit like a mini Indian Sistine Chapel, if that makes any sense), and the menu is pretty easy to follow. Designed by chefs from Hotel Victor and Morton's (two hotbeds of Indian cooking), it uses a "palate system" that groups five dishes from a particular region of India.
So while you explore North India's Navabi cashew lamb, chicken tikka masala and Bombay fish, your date may opt for South India's chicken Kzholambu and Hyderabadi lamb.
We think you'll also appreciate saying "South India" as opposed to "Hyderabadi."