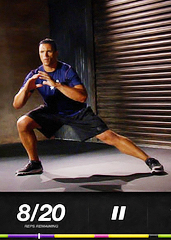 Working out is a thing that you do.
Working out with Tony Gonzalez is probably not a thing that you do.
Unless you're Matt Ryan. In which case, hi, Matt Ryan.
Otherwise, you guessed it...
Time for some two-a-days with
FitStar
, a new personal training app where Tony Gonzalez coaches you, adjusts your workouts based on your physical state of being and yells at you when you're slacking. (Fine, he doesn't yell. But he should. You probably deserve it. Just kidding. Let's move on...) It's available now for iPad.
Right, though... training with Tony Gonzalez. That's more or less what's happening here. Sure, it's happening via some HD videos on your iPad, but happening nonetheless. And each workout is catered and adjusted according to your progress.
It starts out like any new trainer-client relationship does. You'll choose a program (from four to 12 weeks). You'll disclose info regarding your height/weight/age. Then you'll just start sweating. The moves start out pretty basic, but you'll unlock more as you go. Kind of like a progress-driven video game. A very sweaty progress-driven video game.
With more Tony Gonzalez and less up-up-down-down-left-right-left-right-B-A-start.