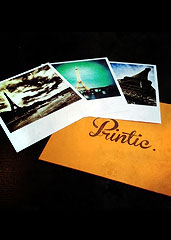 Here's the thing about Instagram.
It's great when you need to take lo-fi filter photos of a half-eaten sandwich.
But what if you need to send hard copies of that photo to your friends. Or to a half-eaten sandwich museum.
Well, that's why something like this exists.
Steady the camera for
Printic
, an app that'll turn your digital photos into very real, very shakeable polaroids, available now for iPhone.
It's simple. You've got a bunch of photos on your phone. And sometimes you want to hold those photos in your hand. Or tape a bunch of them to the inside of a locker... Yeah, us neither.
Anyway, this app will help you with that. Because it'll transform your digital photos into actual polaroids and automatically mail them straight to your door. Or to someone else's door.
All you need to do is download the app (no surprise there), choose a photo from your camera roll or pull something off Facebook/Instagram and... you're 50% there. Now, just do some cropping, write a pithy caption and input the name and address of your recipient. Three days later, your photo will arrive in the mail.
Someone's about to be mildly amused.