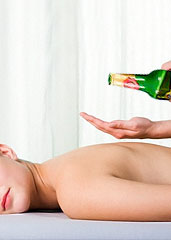 Well, you made it through another week.
Congratulations.
This calls for beer...
... being rubbed all over your body.
Just go with it.
Keep an open mind for
The Frosty Mug
, a new foray into beer-related relaxation that'll leave you exfoliated, rubbed and doused with sweet, sweet suds, starting tomorrow and running through June 30 at Hiatus Spa + Retreat.
We agree, this sounds pretty magnificent. See, the fine people at Hiatus thought, "Hey, you know what's extra-refreshing in the summer... beer. Especially when it's poured all over someone's back." At least that's how we assume it went down. Hard to say for sure.
In case you're curious (we assume you're curious), the procedure goes something like this. You start with a hops, barley and malt exfoliating body scrub. Then, your masseuse will apply some warm milk stout. Everywhere. That'll get rubbed in. That'll smell like warm milk stout. Afterward: an alternating treatment involving both hot and cold stones, followed by a bit of deep-tissue work under the downpour of a Vichy shower. That's water. Not beer. Hard to justify that much spillage.
Anyway, you're probably getting very thirsty about now. So it's a good thing your session ends with you sitting in the spa's lounge, enjoying a cold pint of Austin Beerworks Fire Eagle American IPA.
You had a feeling this would end with beer.