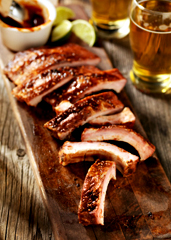 Time to lay down some ground rules for summer grilling:
1) No burning the chicken.
2) No burning the steak.
3) No not having a device that lets you monitor your chicken and steak from anywhere in the world.
Not that you would ever start grilling and then go to Honduras.
But... you could. And that's got to count for something.
Meet
Tappecue
, a crucial-to-the-overall-success-of-your-summer device that takes the temperature of whatever you're grilling and sends that information to wherever you may be, available for preorder now.
Think of this like a home security system. Only instead of notifying you when there's a break-in, it notifies you when your lamb leg hits 145 degrees.
So come June (that's when it ships), the following items will arrive at your door: a black box, four thermometers and a USB cord. Sync that box with your home wi-fi. Then download the corresponding app. Then the next time you've got a six-hour grilling/smoking session ahead of you, enter your desired temperature, stick the thermometers in the meat and head out. When it's ready, your phone will let you know.
And since you're dealing with wi-fi here, it'll work no matter how far you stray from home. No, really. You can go anywhere in the world (maybe stay in the same zip code, though) and still get meat updates.
We just said "meat updates."