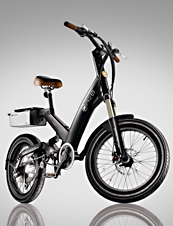 While we promise to do our part to stimulate the auto industry, we're solidly pro-bike—that is, until we have to pedal up California in the rain after work on a Tuesday.
That's when a motor comes in handy.
Here to give you a boost of power on the ascent: the
A2B Bike
, a bit of German design and engineering (the Porsche of bikes) that also happens to have a zero-emission electric motor, available for a test drive today.
You'll appreciate the sleek, mountain-bike body and full suspension, but in the end, it'll be the scooter-like power that wins you over. So whether you're looking for an easy commute to work or to impress a few attractive pedestrians as you tackle Fillmore Hill without breaking a sweat, just rev the throttle and the motor will kick in—taking you to speeds upwards of 20mph (furnishing the juice you'd need to keep up with the pros).
A fully charged battery will last 20 miles (more if you actually pedal), and when the indicator moves from green to red, just plug in your two-wheeler as you would a laptop or cell phone.
You'll also appreciate that you can skip the red tape of the DMV, registration and insurance. Not to mention that you can park it as you would a bicycle—meaning you won't have to look for parking.
At least not on the street.