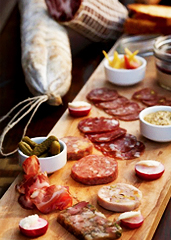 This is an intervention.
Sorry to be so blunt, but we thought some tough love was in order. So we'll come right out with it: the lack of locally cured meat in your fridge is appalling.
Fortunately, there's a way forward. It's called
The
Charcuterie CSA
, a subscription-based source of meat, now taking members who'd like their cured pork and beef doled out on a regular basis. (Hint: that's you.)
So there's this guy named Chris. Went to Europe for his PhD and got distracted by all the artisanal meats he could sample (that old story). Came back here and started curing in a shared kitchen in Northeast DC in March.
Now, he's built up a nice inventory. That's where you come in. Namely, to show up once a month and let him hand you the most anti-vegetarian bag of stuff you've ever seen.
The selection will change each month, but expect a few different salamis (ginger, curried), prosciutto and other Italian-style pig leg. Probably some bresaola, maybe some pulled-pork pâté. Oh, and bacon. Definitely bacon.
All in all, it's almost a pound a month of meat that you didn't have before.
Which should last you until... Thursday.
Note:
The Charcuterie CSA via <a href="http://www.cureddc.com" target="_blank">Cured</a>, $165 for three months, taking members now for pickups beginning in early July, <a href="mailto:chris@cureddc.com">email here</a>