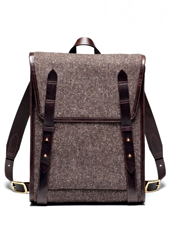 We've seen your summer travels. And... eh, not bad.
Don't take it the wrong way. That cross-country snow-cone-tasting tour should be great.
It's just that it'd be a whole lot greater with a borderline-offensively attractive tweed rucksack strapped to your back.
So good luck finding one of those.
Oh, fine. Here's
Cherchbi
, a satchel slinger from a British guild of tweed gurus doing some really favorable things to complement your summer travel itinerary, online now.
These bags are about 40% Sherlock Holmes, 53% Sir Edmund Hillary and 7% Billy Squier. Holmes-ian on account of all that natty English tweed. Hillary-esque in that they're durable and tough enough to survive a trip up Everest. As for Billy Squier... well, nothing. He actually has nothing to do with these bags. We just wanted to say his name. Guy wrote "The Stroke," for God's sake.
Anyway, go to their site. Find the link marked "All Products." Click that link. Then, rub your eyes in disbelief at the magnificent array of tweed briefcases, herringbone shoulder bags and all-purpose zipper pouches that lie before you. These things were made for you. Go to them.
And hey, fun fact: the tweed comes from Herdwick sheep—an ancient breed of sheep whose wool is rarely used to make bags.
Maybe they're just really good at unionizing.