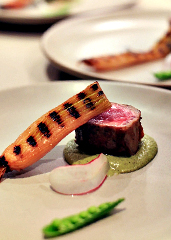 You've been invited to a dinner party.
Your host pals around with the Picca and Alma chefs. He whips up ginger-beer-battered pâté with things he just happened to have lying around. He knows how to make margarita spheres.
Also, remember five seconds ago when we said you were invited... yeah, it may not have been entirely accurate.
But we can fix that.
Mark your calendar for
BRK Dining
, a bold new private dining experience happening out of, yes, some guy's West Hollywood condo—this exists.
Meet Max Shapiro. He's your host for the evening. He's... not a chef by trade. But he's the kind of man who just wants to have a nice little feast of 10 or so courses—anything from beef-heart tartare to brown-butter ganache with pretzel ice cream—for a bunch of strangers who appreciate such things.
Come with an up-for-anything date who's into the idea of all this. You'll start with a cocktail. You'll comment on the six-foot vases in the ultramodern rock garden. (Yes, this place has been in
Architectural Digest
.) You'll excuse yourself from the table and probably snoop around the apartment a little bit.
Oh: to be invited (kind of important), you just have to sign up for the mailing list.
And you don't have to help with the dishes.