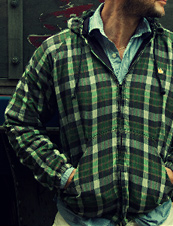 You may not believe it on a chilly day like today, but summer is coming.
And as the mercury starts to rise, you may be wondering about the best way to usher in June with a nice big jaunty hello.
Allow us to suggest something from the shelves of
Burkman Bros.
, makers of casually preppy summer go-to shirts and shorts, now available at Barneys.
Think of Burkman's stuff as the low-key gear you'll want to wear when you're relaxing on the patio deck at your favorite Chicago bar, ballpark or Wrigleyville rooftop. The brothers used to design stuff for the Gap, so you're not going to run into anything too crazy (which can be a good thing), but they also know how to tweak a simple garment to give it a little edge.
Their collared shirts are lightweight and soft (perfect for pairing with a sunny day and a Bud), their signature madras and plaid-print shorts are lined with Oxford cotton for an extra touch of comfort and wit (good for a day on the links)… and we think you'll really like their lightweight zip-up jackets, which are soft and easy.
Which is how you plan to spend July…