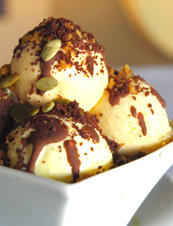 Even in a city with a virtually limitless array of dining options, some dishes are way too good to miss—they demand immediate consumption.
Served Up
gives you the lowdown on a standout dish in the city. Dig in.
Generally speaking, a memorable evening must crescendo with a momentous finish.
Luckily, you're a master in the realm of dessert—mixing
Popcorn Ice Cream
with some
Apple Caramel
topping comes easily. So there won't be a problem concocting a masterpiece from the wild new
Build Your Own Sundae
menu at Ammo.
Whether you're having a full dinner or just feel the need for a seriously indulgent ice-cream sundae, the rustic-industrial Hollywood standard—where everybody knows your name, assuming you're involved with a film at one of the nearby lots—is here for you. With
Brown Butter Sorbet
. And
Popcorn
Ice Cream
. Also:
Parsnip
.
Coconut & Curry
.
Raspberry Jelly
. Even…
Tabasco
.
If you're finishing off the prix-fixe $30 "Simple Supper" menu, a mixture of any three flavors is included for dessert. But if you've just dropped in for a seat at the bar, you can pair your martini with a multi-scoop monster as big as you think you can handle, with toppings like
French Toast Crumble
and
Chili Candied Kumquats
. And as amiable mad ice-cream scientist Agustin Rodriguez gets inspired, his curious concoctions will constantly change—last night he introduced, yes,
Risotto Ice Cream
.
Good thing, because your lasagna brownies just weren't cutting it.