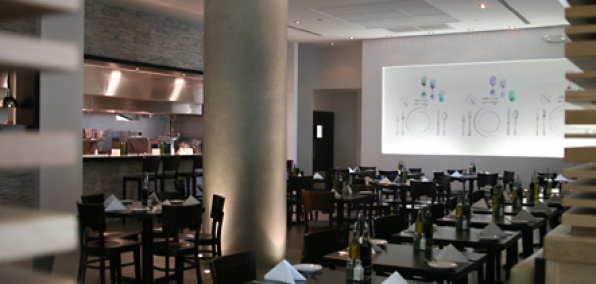 There's nothing wrong with a normal Italian pizza. Nothing.

But some nights you're looking for something a little sexier.

So when we heard about a place that had been open for a little while and was managing to stay under the radar despite the fact it was both good and a bit groundbreaking, well, we wanted to bring it to your attention.

Say hello to Zucchero Ristorante, now open in lower Brickell.

Think of Zucchero (which is Italian for "sweet") as the culinary lovechild of a classy Italian restaurant and a modern Brazilian bistro. Or, better yet, the place Alessandra Ambrosio might choose if she wanted a quiet, paparazzi-free night at a spot that felt a bit like home.

Opened by the Tutto Pizza people on the ground floor of the Nordica building, Zucchero is where you'll go on a casual date for brick-oven pizzettes (mini pizzas), South American wine, Brazilian meat dishes like grilled tenderloin served with dried fruit and pecorino, and short ribs cooked in Barolo.

There's also a pizza you absolutely have to try, although maybe not on your first visit. It comes with chicken, hearts of palm and "Catupiry" cheese, which is cream cheese and muenster melted together…

Think of it as one more reason to love Brazil.