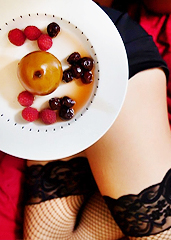 We're lovers. You know that. But every now and again, something comes across our desks that just seems... suspicious. Because of the tremendous material upside to all our lives if these claims pan out, we at times put ourselves in harm's way to investigate. Albeit skeptically.
We call it: Skeptical Investigation. (Trademark pending.)
THE CLAIM

That
Our Gourmet Life
, an underground erotic supper club, is... an underground erotic supper club. You know, masked servers. Sexy French maid outfits. Eating whipped cream off of people instead of strawberry shortcakes. Each of the eight to 10 courses is designed to get progressively more provocative.
THE INVESTIGATION

After receiving an email revealing the location (hint: it's a loft in SoMa), we showed up, buzzed the buzzer and were led upstairs by a masked man.
Prosecco and oysters were served. We made small talk with the dozen or so others in attendance. Mostly couples. Some singles.
Finally, a French maid led us to a long communal table. Things started out innocently enough. Arugula salad. Little salmon. Wine. Great. And then someone touched us. We got touched. And then we got massaged.
Weird. Amazing.
Fast-forward five courses or so. Those French maid uniforms: disintegrated. The couple next to us: covered in whipped cream. Us: pleading the fifth.
THE VERDICT

Well, it's definitely a supper club. And, well, it's definitely erotic. Don't go for the food, though.
Go for the... wine.