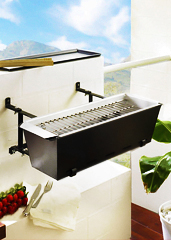 The Derby: over.
Cinco de Mayo: over.
What you need: something to get excited about.
Hey, grilling. That season's just getting started. Let's focus on that.
And your balcony. Because it's nice out.
Grab your tactical BBQ apron (a beer, too) and fire up the
Bruce Handrail Grill
, a compact meat cooker you'll use for flame-grilling burgers on your balcony, available online now.
You're familiar with grills. Very familiar, actually. But still, go ahead and picture one anyway. Then, picture it again, but shrunk down to the size of a flowerpot and attached to your balcony railing via some really handy hooks. Good, because that's what you've got here.
So this weekend, when you're hosting some friends at your place or, like, just sitting around and feeling kind of hungry, you'll employ this thing. Throw some wood or charcoal in the base. Then set it ablaze and start searing two-foot steaks atop its two-foot grate.
Oh, and here's a little secret. You don't have to use it on your own balcony. Because it's portable. So take it to a friend's place. Or hook it to the back of a truck and tailgate. Or fix it to a bicycle rack in the park.
Anyway, you'd better go ice down a bunch of beers.