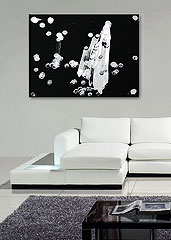 There are certain things you've probably never thought about.
Like, say, what all the smudges you make with your fingers on your iPhone while playing
Angry Birds
would look like if someone transformed them into art.
Right, because that would be something a crazy person thinks about.
Or these guys.
Look closely at
Invisible Hieroglyphics
, a new venture that turns touchscreen finger swipes into abstract wall art, available online now.
This is the art you never asked for. Mostly because you didn't know you could. See, a couple of guys noticed that vigorous games of
Fruit Ninja
left particularly interesting finger marks on the screens of their iPads. Then instead of just cleaning those marks, they photographed them, digitally enhanced them and added a bunch of color. It's like
CSI
. But for art.
The result: a series of acrylic prints with sort of a "Jackson Pollock meets kindergarten finger painter" vibe. There's one made from Facebook keystrokes that looks like a bunch of random purple dots and stripes. Then there's another that was pulled from a camera app that's basically three blue specks on a solid red canvas. Deep.
Each limited-edition piece (quantities range from 50 to 250) is set behind a sheet of glass and ready to hang.
Just try not to get your fingerprints on it when doing so.