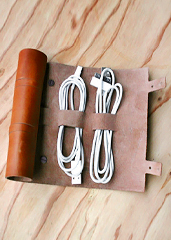 Planning a vacation is tricky.
It's just so easy to make a mistake.
And, well... you've been making the same mistake for quite some time now.
You know, by not knowing this stuff existed.
Let's fix all that with
This Is Ground
, a web-based store from LA full of leathery travel cases that roll tightly around your valuables, thus giving them the handsome respect they so desperately deserve, online now.
It's like someone took a bunch of leather and said, "This should look less like leather and more like an awesome wardrobe for my iPhone." The result: striped green iPhone cases with wallet-y pockets, handmade leather cord wraps with metal buttons and other little things you're better off having than not.
The idea is this. When you travel, you need your things to not get tangled up or lost in your suitcase. And you're going to accomplish that with this stuff. For your earbuds, order some tan leather cord tacos. They're called that because they're taco-shaped (which reminds us, have fun Sunday). And for your currency, there's that iPhone case with a card pocket on it.
And should you want to do some personalizing here, they also make a stamp kit that works on leather. It comes with linoleum blocks, sheets of transfer paper and blades. You create the stamp. You leave your mark on things.
Your legacy lives on forever. Ish.