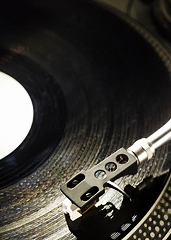 We hate to add something to your to-do list, but this is potentially big.
You're going to need to clear off a shelf. Because you've got some great vinyl records coming your way.
It's time to turn up the volume and drop the needle on
Vinyl Me, Please
, a new service that handpicks a must-hear record for you every month, along with some choice downloads. And cocktails.
You've heard about those DJs in the glory days of FM radio who told you what to listen to, and who were usually right. That's these guys, a group of DJs and other music enthusiasts who pick out one record per month that they think deserves a listen all the way through. Could be something new, could be under-the-radar, could be a classic. Then they send it to you.
For good measure, they'll even throw in a cocktail recipe that goes well with your album (probably a strong one if they ever pick a Tom Waits record).
But let's face it: your ears need lots of songs. So one of those same music enthusiasts will be assigned to you as a personal music consultant. They'll take your feedback and send you a curated playlist every month, tailored to your tastes.
Hopefully, your personal sandwich consultant will be cool with this.