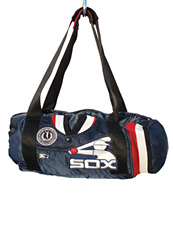 As the White Sox prepare for what's sure to be another wild, crazy and Kansas City Royals-destroying summer, we'd like to remind you of an uglier time—1983, to be exact.
Introducing the
White Sox Finisher Bag
, now at Haberdash.
The Finisher is a gym and travel-worthy duffel cleverly constructed from the reworked fabric of a circa-1983 Sox Starter jacket—right down to the satin exterior, quilted inner lining and original owner's name tag (though if it says "Baines," you may want to try your luck on eBay).
The bag comes from a company called No Mas, which was started by a Brooklyn sportswriter. If you visit the
No Mas site
, you'll find a wealth of other vintage and pseudo-vintage sports gear—tees and hoodies with messages ranging from the ironically reverential ("Re-instate Shoeless Joe") to the head-scratchingly existential ("Cassius vs. Muhammad").
There's also a Billy Ripken-referencing shirt we're quite fond of (you know what we're talking about), and we could definitely see you rocking the Seattle Slew tee on a Saturday afternoon this spring on the Fifty/50 patio.
Right underneath your duffel bag-turned-windbreaker.