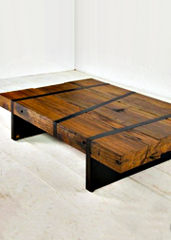 When you go surfing, you bring back the occasional seashell.
When the cofounders of a Brooklyn design studio went surfing, they brought back a 45-year-old shipwrecked boat from Indonesia. To make tables.
Go figure.
Meet the
Aellon Grace Line
, an inaugural line of desks, tables and other housestuffs made from an Indonesian fishing boat named
Grace
, available online now.
So yeah, back to these guys who found a boat. Right on a beach. All 61 feet of it. Which they use along with local, sustainably harvested teakwood to make things for you to sit on. Or hold your wallet. Or write the great American novel on. You know: furniture.
If you need a few new seats for your wet bar, you can grab a couple of their steel spinner stools topped with wood from
Grace
. Or if you're looking to set three fingers of whiskey on something cool, they have a trio of tables that fit under one another (one for each finger).
Later, when that leggy beach creature from your last surf trip joins you, you can pull out one of their little hand-carved wooden trays (replete with bolt holes from the ship's hull) and light three votive candles on it.
Let's hope she picks up on the whole "three" theme.