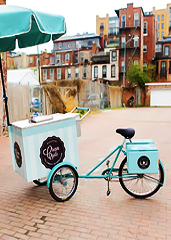 Cyclists. Always whizzing past you. Always in a hurry.
They really ought to slow down. And hand you an ice cream sandwich.
Like these guys:
CreamCycle
, a fleet of bikes with coolers full of ice cream sammies. They're now rolling, and three of their cruisers will be on the road by the end of April.
Think back to that bike you had when you were a kid—the one with a basket on the front. Now imagine you had a really big basket, and you filled it with dry ice and homemade ice cream sandwiches, and hawked them to the neighborhood kids. That's basically this.
Although probably not quite as advanced as this. See, a longtime pedicab operator tricked out these vintage bikes with accent lights and built-in speakers so the drivers can show off their ice-cream-appropriate soundtracks. But if you can't hear the Van Halen coming,
just follow them on Twitter
. Or look for them downtown during the day, and outside your favorite bar at night.
Oh, and the giant dry-ice coolers on the front: they're stocked by a chef at the Caucus Room, who's turning out flavors like
banana-habanero with coffee cookies
, and cereal-milk ice cream with granola cookies.
Finally, something positive for Lance Armstrong to do.