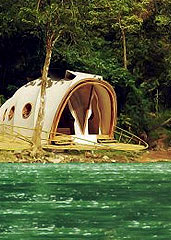 Wednesdays always inspire daydreams.
About tropical locales. And how you'll enjoy said tropical locales.
We're thinking something luxe. With air-conditioning. And a sundeck. And a toilet.
In short: let's talk caterpillar-shaped tepee things.
Go off-grid like Thurston Howell III with the
Nomadic Resorts Looper
, basically a posh cocoon-yurt for when generic posh cabanas just won't do, taking orders now.
Born from a company in Sri Lanka, this is ridiculous in that ridiculously awesome way. It's about the size of a studio apartment (with a 10-foot ceiling) and enclosed in a canopy that will hold up against harsh conditions (and mosquitoes). Inside, there's an air-conditioned bed area, a place to take hot showers and a wardrobe (perfect for stocking your Frank Costanza–esque cruise wear).
The plan: you'll order this. Then, you'll fly to an island (maybe even your own island). Then, this'll arrive and an install team will assemble it. Finally, you and whatever barely clothed island mate you've brought along will alternate between bronzing sessions on this thing's sundeck... and post-swim siestas on its bed.
At night, you can even drop the canopy for LCD-projected film screenings.
Suddenly,
Cast Away
has new value.