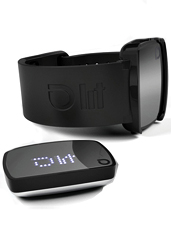 What a beautiful weekend we had.
Just perfect for being outdoors.
Running, biking, full-contact julep drinking.
If only you had an app with a built-in gyroscope to track all your pertinent julep-drinking data.
Yeah, if only...
Divide by six, carry the one and meet
Lit
, a fitness gadget that monitors your extreme (snowboarding) and not-so-extreme (stairs climbing) athletic achievements, available for preorder now.
This is not one of those devices that measures how many steps you take throughout the day. Okay, yes it is, but it also totally does more. Like track your airtime and g-force and strokes (we'll go ahead and assume they're talking about canoeing).
To get started, you'll want to preorder this online. Then, once it arrives, you'll just strap it to your wrist and go forth. Do stuff. Justify your reason for having one. And while you're doing said stuff, the tracker will sync stats from your recent activities to its corresponding app. Like how fast you completed that 10K. Or the g-force you reached bringing that sandwich to your mouth.
And because everything is more fun when there's the potential to bet on it, you can use the device and app to challenge your friends to various competitions. Like seeing who can get the most air while skiing.
Or who, like, falls down the least.