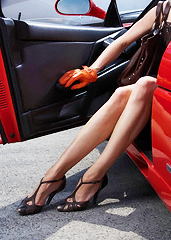 Let's talk about how you're getting around tonight.
You could:
1) Summon your own personal fleet of vehicles.
Actually, we'll just stop right there. That sounds about right...
Do a donut for
Corral Rides
, a new app that puts all of your transportation options (Uber, Lyft, SideCar...) in one place and lets you decide which one will get you to Point B in the most magnificent way possible, available now for iPhone.
Lot of ride-sharing and private-car apps out there. And chances are, they're in your phone right now. But hey, good news. You won't have to keep track of each one anymore. Because, well... this thing.
It's Friday night. You're out. You require transportation from Hard Water to Trick Dog (or anywhere else to anywhere else). Pull up the app, punch in your pickup and drop-off locations and wait for a list to pop up. On it: a breakdown of the availability, prices and wait times of almost every non-cab option out there.
That's it. Just pick something and wait a few minutes. Your driver will be right with you. A shared ride from Lyft: sure. A black sedan from Uber: that, too. You can even check the bus schedule.
But maybe don't check the bus schedule.