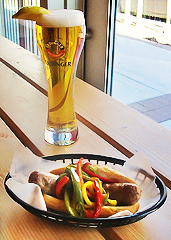 The market. Sometimes it awes you with its power.
It can turn a little money into a lot of money.
Or it can turn a salad place into a sausage-and-beer hall.
With that, better gird yourself for
Fat Shorty's Sausage Grill
, a quick-serve Belgian/German spot and temple to carnivorous victory, now open in Clarendon.
You might remember a place called Rabbit in this space, which was strangely fixated on vegetables. Well, the owner thought he could do better with tubular meats and a vast quantity of European beers. Bottom line: if there's such a thing as sausage overkill, you might find it here.
There are 20 of them for you to look over on the menu, from the expected (weisswurst, hot Italian) to the thoroughly unexpected (alligator, rattlesnake, wild boar with cranberry).
Once you've settled on one—er, two—along with some German potato salad and maybe some green-curry mussels, you'll take a seat at one of the long blond-wood picnic tables.
And once you take a seat, you won't have to get up again—there'll be servers coming around to replenish your beer when you get low.
Oh, right. The beer. Along with 12 bottles, you'll find three taps for Belgian beer and three for German beer, which come in an array of glasses, including a mammoth 23-ouncer.
Now it's a party.