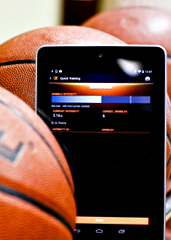 March Madness: at its peak. (Just ignore the whole "April" thing on your calendar...)
So go ahead, watch the games. Then, pick up a basketball. Then, realize your jump shot needs... a little work.
Then look into the
94Fifty Sensor Basketball
, a sensor-laden, Bluetooth-equipped basketball that sends all sorts of important performance metrics to your phone for analysis, available for preorder now on Kickstarter.
They've essentially crammed a university's worth of physicists, statisticians and coaches into one indoor/outdoor, regulation-size basketball. Inside: some motion-sensing accelerometers calculating your backspin's rpm and your catch-and-shoot speed down to the millisecond. On the companion app: 50-plus skill games to hone your power dribble and put your shooting arc in the sweet spot.
You'll begin by... well, stretching. Then, dribble the ball a couple times to sync it with the app. From there, just shoot around as it analyzes your actions in real time, or select one of the app's many workouts to focus on one area of your game. Like off-hand dribbling. Or full-court buzzer beaters.
The most useful part, though: head-to-head competitions. Up to four players can join skill games, or you can compare scores against other users online. You can even compete in challenges against NBA players.
Hey, if Wichita State made it, anything's possible.