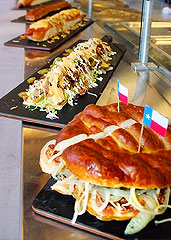 "I think I'll just eat a salad."
"I'll take the small beer, please."
"I'll have a hot dog. Hold the bun, hold the dog."
Yup, three things that have never been said at a ballpark.
Especially around this place...
Skip lunch (and the previous night's dinner) for
Texas Sized 24
, the newest concession stand at the Rangers Ballpark in Arlington, where they're serving a bunch of, well, Texas-sized things you will really want to eat/should probably share with your entire row.
Now, before you just dive in, say, at the home opener this Friday, here's a sabermetrics-like analysis of what you'll consume when baseball isn't busy getting in the way.
The section closest to the concession stand:
25

Player-related food puns on the menu:
3 (Beltre Buster, Murph-a-Dilla, Totally Rossome Boomstick)

Number of guesses it'll take you to figure out "boomstick" means two-foot hot dog:
5

Size of a soft pretzel:
24 inches

Cost of a soft pretzel:
$13

Number of soft pretzels Josh Hamilton could buy with his new Angels contract:
about 9.6 million

Toppings on the Murph-a-Dilla:
5

Number of those toppings that are smoked brisket:
1

Width of second base:
15 inches

Width of a Murph-a-Dilla:
nearly twice that

Approximate number of innings it would take to devour the entire menu:
19

Number of Ranger games that have ever gone 19 innings:
0