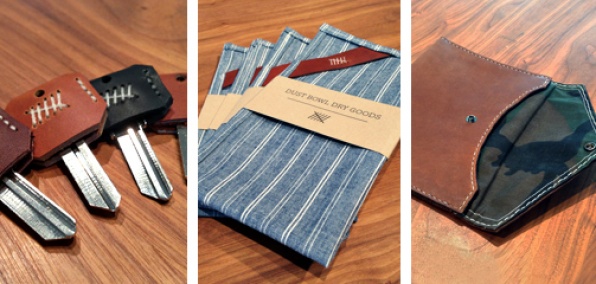 There's no way for this not to seem random, but...

Today we're going to talk about the Dust Bowl. Woody Guthrie. Okies. Tom Joad. Dust. All that stuff.

And how it could make your life a little more handsome...

Say howdy to Dust Bowl Dry Goods, an Oklahoma-based emporium of hard-nosed home goods determined to make your life more indestructible and good-looking, online now.

The story: one day, some guy in Tulsa laced up his Red Wings and thought, "These would be great at holding my keys." So he acquired that very same leather. And then made a handsome little tray for his belongings. And some key covers, iPad cases and other unnecessarily tough odds and ends. And then he sold them on the Internet. Moral of the story: capitalism is alive and well in Tulsa. (Also: invest in leather.)

Which leaves you with decisions. Decisions involving whiskey glasses dipped in candle wax, cutting boards cut from sycamore trees and dish towels made with fabric sourced from a genuine Oklahoman grandmother. (You hate when fabric's sourced from a fake Oklahoman grandmother.)

One thing, though: don't skip the "Apothecary" section. That's where you'll find the beard oil, air fresheners and soap made from goat's milk.

It's been too damn long since you lathered yourself in goat's milk.