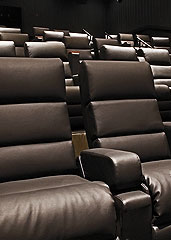 Dinner and a movie.
You know the drill.
Eat something here. See something there. Casually/calculatingly touch hands while reaching for the popcorn.
And... that about covers it.
Or so you thought.
Silence your phone for
Look Cinemas
, a slick new multiplex that's combining both the dinner and the movie portions of your evening into a single date-appropriate venue, soft-opening tonight on Belt Line.
Below, a glimpse into what you should expect. Consider these the coming attractions.
The Theater

What you've got is a bunch of floor-to-ceiling screens, hair-rustling speakers and some really comfy leather chairs. Choose one of the dine-in theaters (they've got three), and those chairs are configured into pairs and equipped with tables. Like a gift from the date-spot gods.
The Concessions

Think less Junior Mints and more bone-in filets with lobster mac. See, Nick & Sam's Grill (opening April 5) is handling the refreshments. Not just for the attached restaurant, but also inside the theater. Simply hit the call button on your chair, and a server will hustle over a steak. Chew quietly.
The Bar Upstairs

Yes, there's a full bar upstairs. And yes, you can take your drink with you into any of the three theaters on that floor.
Bottle of champagne, two straws.