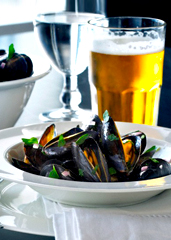 You don't mind strapping on the apron and getting to work in the kitchen. For two.
But a dining table full of extended family, or a whole roof deck's worth of cigar-chomping college buddies... well, better leave that to the experts.
Oh, look. Some experts.
Here then is
Granville Moore's Catering
, the nomadic equivalent of the H Street Belgian spot, taking bookings now.
We trust you know Granville's. Mussels. Fries. Interesting beers. A chef, Teddy Folkman, who's been on
The
Next Food Network Star
and chairs DC's annual Beer Week.
Well, that's who'll show up at your place for your next dinner party, bachelor party or NCAA championship party, along with the restaurant's beverage director and all-around beer expert.
But first, Teddy will ask you some questions having to do with your favorite restaurants, cuisines and ingredients, and whether you prefer beer, cocktails or wine pairings (note: "all of the above" is an acceptable response). 
From your answers, he'll come up with a menu that might include stuff like
Sweet & Sour Pork Belly Donuts
, butter-poached crab and beer-and-cheese fondue with lobster and Kobe beef.
And if you're looking to learn how to fry donuts or make gnocchi, he's happy to throw some instruction into the deal as well.
You can give your microwave the night off.
Note:
<a href="http://granvillemoores.com" target="_blank">Granville Moore's Catering</a>, taking bookings now, <a href="mailto:DrGMEvents@gmail.com">email here</a>, <a href= "http://static.urbandaddy.com/uploads/assets/file/pdfs//44a775df88af5753f3819f991c475651.jpg?v=edf0c1279db2128fa7ec410c91620d04" target="_blank">see the sample menu</a>