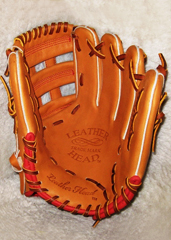 Babe Ruth. Abner Doubleday.
Bull Durham
. Steve Bartman. Pine tar. Ty Cobb. Eddie Gaedel. Dugouts. Ballpark nachos. Big League Chew.
Frank Thomas' Big Hurt Baseball
. Joe DiMaggio. The bloody sock. Bill Buckner.
Oh, and Wendy Peffercorn.
If you're not sufficiently excited for opening day yet... this should do the trick:
Step up to the plate for
Leather Head Baseball Gloves
, a handsome foursome of vintage-style gloves made with an obsessive amount of love, precision and high-quality leather, available for preorder now.
These are just clean, pure-hearted gloves. Ozzie Smith in glove form. You might say they resemble that plastic mitt from your first catch. You might. But then you'd touch it and realize that statement was borderline sacrilegious.
See, you've got the Murderers' Row of glove-making behind these. The chief designer: an expert leatherworker from baseball's holy land of Cooperstown. The logo artist: a die-hard baseball fan (who's also a renowned typographer). The testers: a bunch of ex-MLB pros. And the leather—sweet baby Ruth, the leather: it's thick enough to handle munitions-grade plutonium, yet supple enough for one-hoppers from Prince Fielder. (Or, you know, a rival softball team.)
So here's what you do. Go to their website. Choose your glove—an outfielder's, an infielder's or a catcher's mitt. Four weeks later, you'll get a package smelling of fine leather and seventh-inning stretches. You'll remove the contents. You'll head for the yard. And then...
Hey, no worries. These make excellent desk candy, too.